To be honest I have never been a fan of Gwyneth Paltrow but a movie she was in "sliding doors" certainly did have an impact on me.  I have had several of these "sliding door" moments in my life and I admit I have thought "what if?"  What if I hadn't moved to Wellington in 1999?   Would I still have moved into Recruitment?  I know I wouldn't have had my beautiful son.  But if I had stayed in Auckland would I have gotten married and had kids?  So many "what if's"  but one thing that is certain is that some sort of change will always happen in your life.  It is how you handle that change that makes who you are today.  Remember that old adage "make hay while the sun shines".  EG: Make the most of this opportunity/change that is happening.   Whatever change in my life has happened I have adapted and made the best out of things.  But not everyone does.
Where am I going with this?  God only knows!  Just kidding… I do have a point.  People do not like change.  It really is something you need to look at with an open mind and almost train yourself to relax, take a breath and think of pros and cons. Almost talk to yourself about what this means for you.  At work when change happens people feel they can't control things that are changing.  People don't think pros and cons –  they automatically resist.  No I'm not doing this.  Why should I? What is in it for me?  This is where Change Management principles can help people move through change.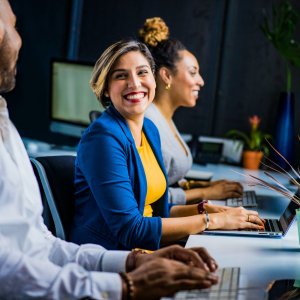 At NAB (for example) they have had change management within both the business and project space for many years.  People at all levels within that organisation, had some sort of contact or experience with change management.  It has typically been utilized within the financial and utility industries for many years – probably because both industries are highly regulated and involving change management into risk or remedial or behavioural change projects ensured that whatever change was occurring was most likely to be adopted and therefore the organisation would be slapped with a fine.
However in the past few years, with people working remotely, getting "buy in" from employees or clients , who have been effected by any type of change, has been more challenging.
Covid really has made changing things a lot trickier.  How can we get these people onboard with this project while they are working remotely?  How can we start these massive transformational programs while almost 100% of our staff do not work in the same building?  Well what this means….is that there has been a massive uptake of change management resource on projects within industries that typically haven't had change management.   And what this also means – is that there is a decrease in the number of experienced change practioners out there and available.
What can you do?  Two things.  If you are not finding the talent yourself, then come to White Cloud Recruitment – of course!   I always find people (not on the market and actively looking) that are ideal for your programs of work  OR  (drum roll please) if you don't have budget and you can't hire externally– what about internal options?
Back to Gwyneth Paltrow and her boring acting…sorry no….back to a sliding door moment.   There will be people within your current organisation (HR/PM/BA) that love working on the people side of the project world.  They have researched/read/been slightly involved in Change Management before and this is their sliding door moment!  Allow them to take the leap and move onto a large / complex / program that is happening in your company.  Call them the Change Business Partner or Change Manager if you want – but give them the opportunity to take all their learnings around Change Management and help your people be prepared, supported and adopt whatever change your company will be hoping to achieve.   As they use to say "two heads are better than one" and a Change Manager supporting a Project Manager, well you can't go wrong!  Well you can actually (sponsorship support anyone?) but that is for another blog.
So to summarise my waffling.  If you are undergoing change of any sort use White Cloud Recruitment, but if you can't for whatever reason, then promote and support your internal talent.  They know your business, they are willing to learn and they want to help your people.  Win/Win!